CASE STUDY
Vera Whole Health Sales Playbook
Vera Whole Health's growing sales team needed an easy way to share best practices and access sales enablement materials. We built them a digital sales playbook easily accessible from their CRM.
THE SITUATION
A Sales Team Preparing To Scale
The Vera sales team's job is complex. During their sales process, they must convince prospects to make a multi-year investment in an advanced primary care solution. You can imagine the complexity and detail involved.
As they prepared to scale nationally, their sales operation needed a one-stop system that defined sales best practices; assisted them at each step in the sales process; and made it easy to find and access tools, templates, and background information.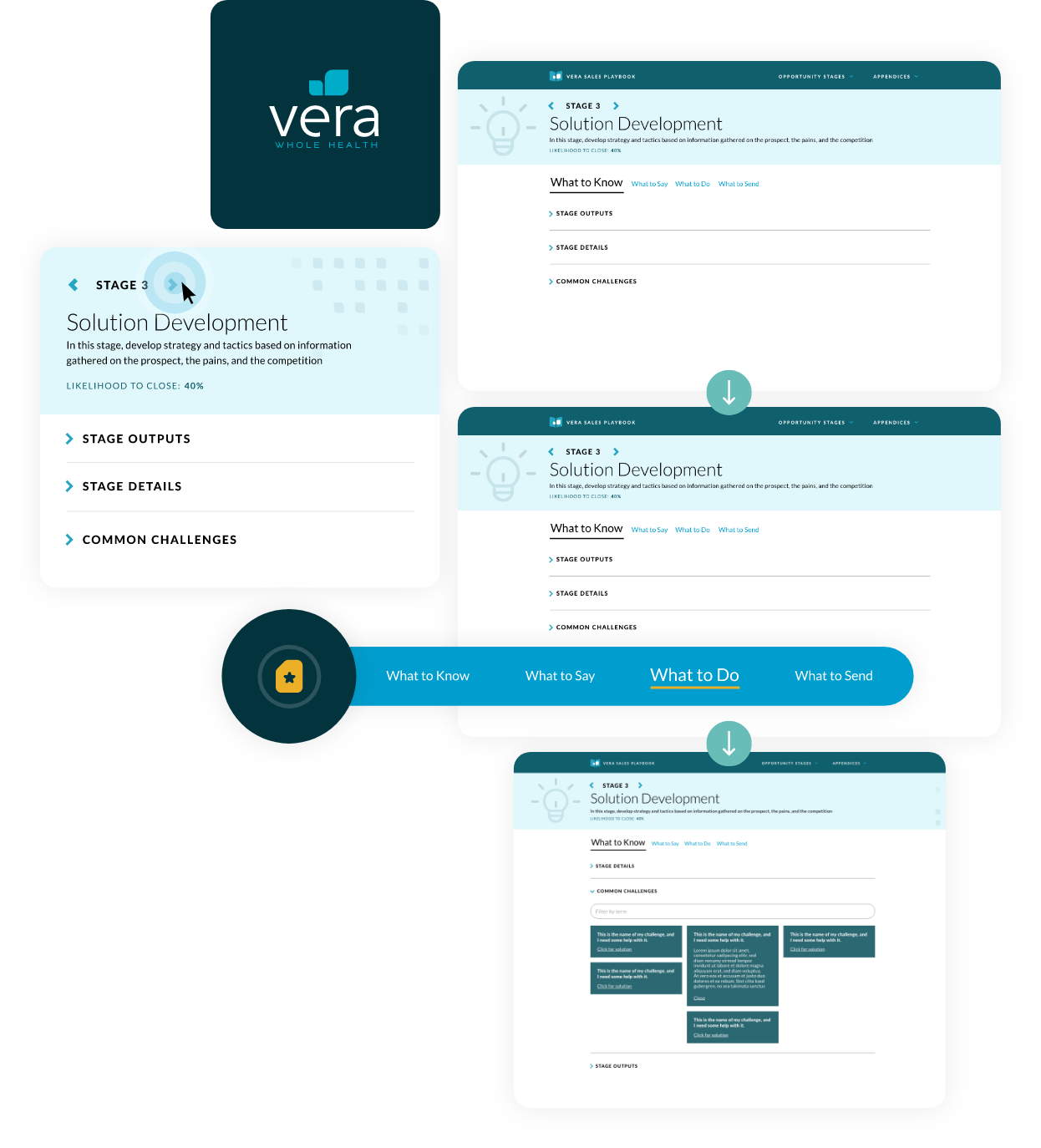 A Digital Sales Playbook Accessible From Vera's CRM
We worked with Vera to build a digital sales playbook that documented their sales best practices in a single place. The playbook is organized into sections for each of the stages in their sales pipeline. Each section includes baseline requirements for the stage, an overview of the key activities sellers should complete during the stage as well as the challenges they will face, and a searchable library of resources they can share with prospects.
Easy access for CRM
It was clear from day 1 that the playbook would only be successful if it was used. Collaborating with Vera's Sales Ops team, we decided the best way to encourage use was to link to the playbook directly from within their CRM.
Sourcing
Over the last 5 years, Vera's marketing team has created numerous articles, blog posts, and long-form content pieces. Many of these can support the sales process, but they were previously difficult to find. In the playbook, we created a resource library that could be easily filtered to find the right resource, at each opportunity stage, to send to prospects.
THE RESULTS
Accessibility & efficiency born out of collaboration
At the beginning of the playbook creation process, we held a number of journey mapping sessions to get a clear picture of sales team needs and what success looked like to them. This collaboration, as well as continued collaboration with Sales Ops throughout the design and development of the playbook, led to a number of key decisions.
REACH OUT
Take the first step toward a lasting impression
Interested in learning more? We'd love the opportunity to connect. Let's have a conversation about how ABN can support you in both building a brand that lasts and exceeding your business goals.
Join Us Today – Our insight helps your business grow.