HEALTHCARE / HEALTHTECH
Accelerate your impact
Healthcare is about helping people live healthier and more fulfilled lives. It turns out, that's easier said than done. That's why what you do is so important. Whether you support front line care teams and health systems, are bringing an innovative product to market, or are disrupting the healthcare status quo, we can accelerate your impact.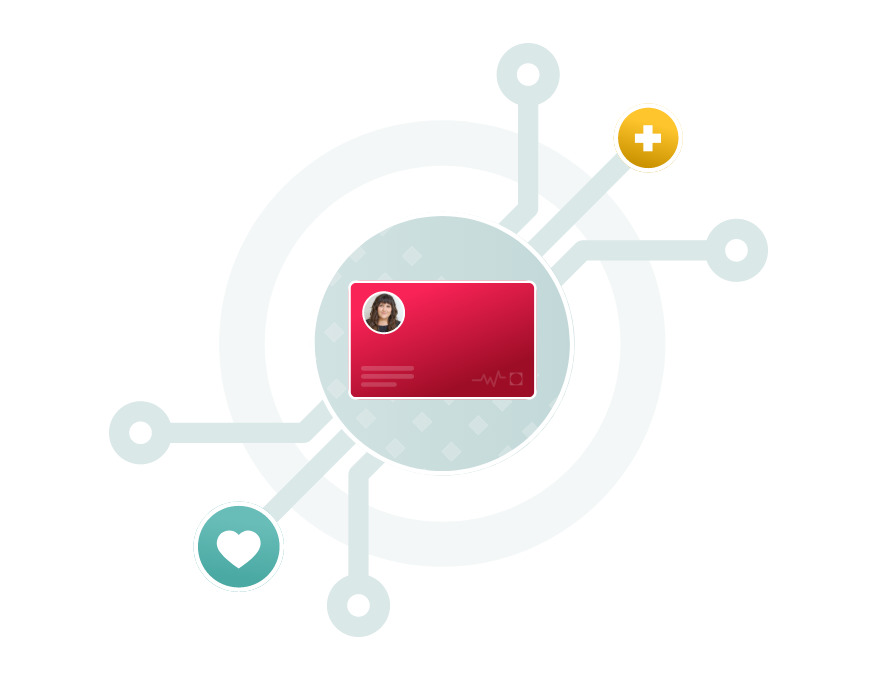 EXPERTISE
Deep knowledge of the healthcare space
Over the last decade we've crafted B2B brand experiences and marketing strategies to reach physicians, health systems, insurance carriers, and employers searching for health and wellness solutions. We know your audience, and we'll meet them where they're at. We'll ensure you're remembered.
CASE STUDY
symplr HubSpot Site Enhancement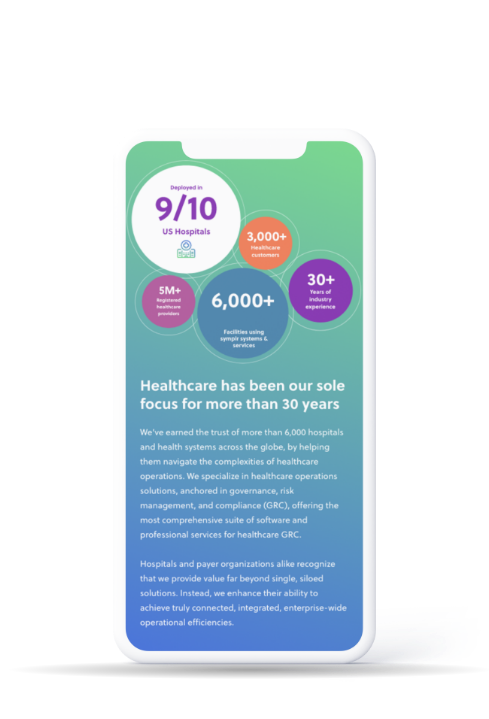 HEALTHCARE
Symplr HubSpot Site Enhancement
symplr, a healthcare operations organization, needed a functional design system capable of scaling.
Who's symplr?
symplr is an enterprise providing healthcare operations solutions and services. They've improved outcomes for more than 3,000 healthcare customers by simplifying their operations and helping to solve numerous daily challenges.
What did they need?
symplr approached us when their newly launched website didn't have an adequate design system to operate at scale. They asked us to help them consolidate their templates and establish a structure for success.
How did we help?
Our team knew how important it would be to bring the symplr brand up to speed with today's best practices in HubSpot. Keeping both mobile and desktop users in mind, we introduced a Material UI kit that allowed us to focus on enhancing conversions and introducing memorable, experience-driven design elements.
OUR APPROACH
Bringing your healthcare brand to life
Healthcare is a technical and scientifically driven space. Our approach to understanding your organization's mission and translating it into a compelling brand and marketing is both proven and effective.
We take the time to learn the intricacies of your mission
Whether you're pioneering the future of value-based care, launching a transformative new app, or equipping providers and health systems to stay in compliance with regulations, we'll take the time to understand your unique approach and translate it into public facing content that is accurate, smart, and compelling.
We meet payers, providers, and patients where they're at
Our team has experience building compelling brands and marketing campaigns for payers, providers, patients, and HR professionals managing complex benefit plans. We know what makes them tic and can ensure your content resonates with their needs.
We build stunning brand experiences
No matter whether it's a branding project, a website redesign, or a marketing campaign, we create brand experiences that will not only showcase your expertise and drive people to action, but also set you apart from your competition.
WHITE PAPER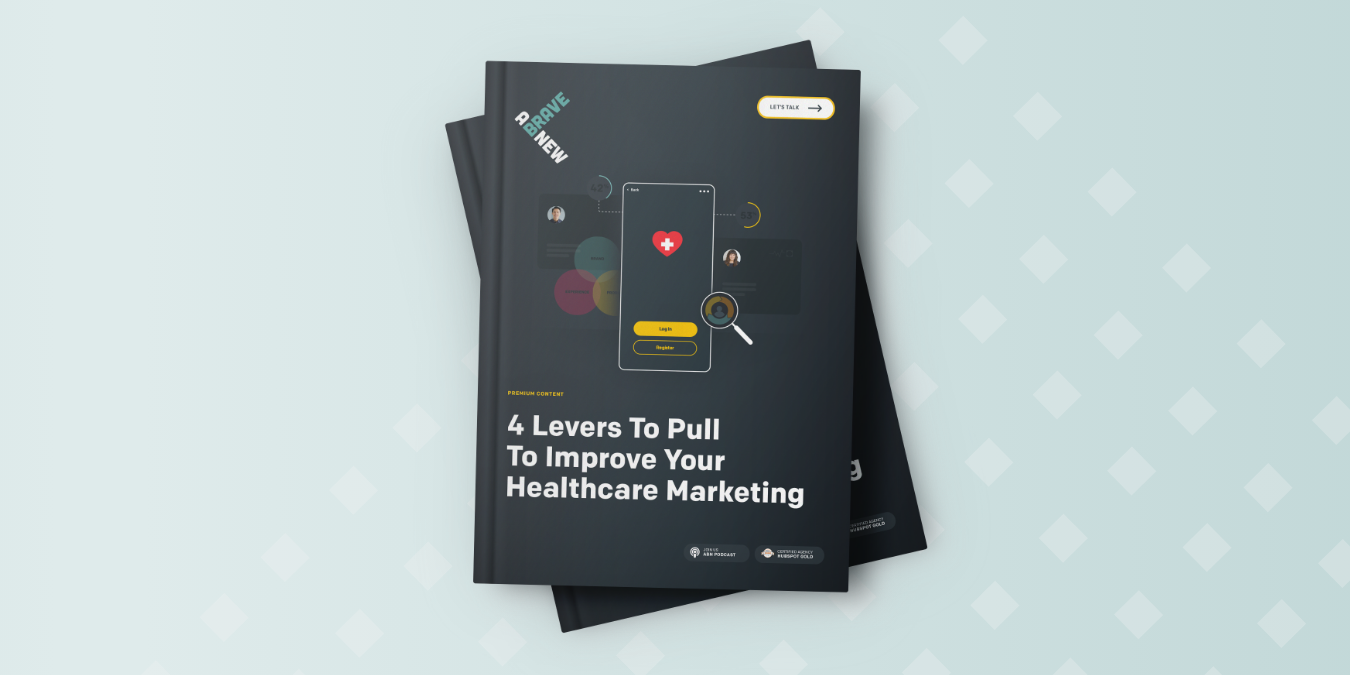 4 levers to pull to improve your healthcare marketing
Discover the 4 levers you can pull right now to make a positive and lasting impression, stand out in a crowded industry, and gain trust.
PODCAST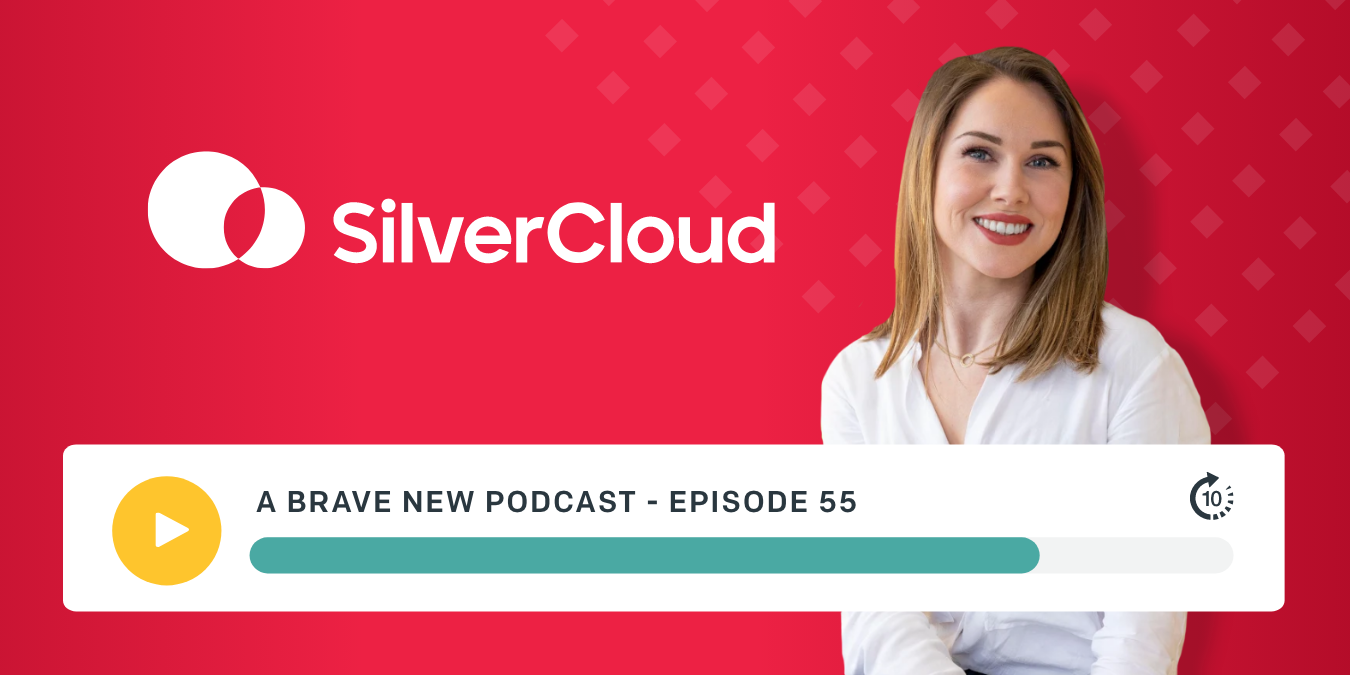 Curiosity, continuous learning & embracing constant change, with Alison Tyrrell
SilverCloud Health's Alison Tyrell joins Josh on the podcast for a conversation about healthtech marketing, curiosity, and brand.
SOLUTIONS
Tailored solutions for healthcare/healthtech firms looking to grow
Brand Strategy
Strategic Messaging
Inbound Marketing
Brand Strategy
Building differentiation in a highly competitive and regulated space
Branding in the healthcare space can be challenging. The best healthcare brands deeply engage our humanity, demonstrate how they leverage technology to help people live healthier lives, and showcase their expertise. More than that, they do it in a way that is different from everyone else around. Easier said than done. Our approach to branding fuses your expertise with ours by using a workshop based branding approach that will distill down the things that truly make you unique into a memorable brand that will build connections with the right people. Learn more about our approach to brand strategy.
Strategic Messaging
Building connections with health plans, providers, patients, and more
One of the unique thins about healthcare marketing is the necessity of speaking in a relevant way to numerous and diverse highly educated audiences. Whether you need to share about an innovative new offering to a health plan, or convince the chief medical officer at a regional health system that you can help them increase their HEDIS quality scores, it requires precision messaging. Our strategic messaging offerings can help you develop specific messaging platforms for each of your key audiences that speak to their specific needs and expertise while also infusing your brand throughout the content.
Inbound Marketing
Guiding prospects through a complex sales cycle
Sales are rarely straightforward in the healthcare space. The cycle is often driven by the benefit or budget year, and it isn't unheard of that it could take 12-18 months to close the sale. There's a reason for this. Any new solution needs to work through multiple layers of approval and must make an impact on the business. Our inbound marketing services specialize in engaging and maintaining top of mind recognition of your brand throughout a long sales cycle. The programs acknowledge that things are rarely linear and a prospect may engage with content for months before making a purchase. This means we need to drive ongoing engagement until they are ready to make a purchase using the power of modern technology, AI, and automation.
GET IN TOUCH
Take the first step toward a lasting impression
Interested in learning more? We'd love the opportunity to connect. Let's have a conversation about how ABN can support you in both building a brand that lasts and exceeding your business goals.
Join Us Today – Our insight helps your business grow.