What do Apple, Harley Davidson, and Airbnb all have in common? Here's the commonality: All three have strong and carefully crafted brands that allow them to demand the loyalty of their followers while simultaneously creating antipathy with those who don't like them.
In short, all three have strong brands. They've carefully crafted an image that goes way deeper than a logo and visuals. They've done the hard work of building their entire brand experience around a single essence:
Brand Essence—The connecting thread linking together everything that you do. This is the main "memory" that you want to leave people with every time you interact with them.
Doing this has made them nearly impervious to any attacks on their control of the market. Why? Because the unique essence at the center of their brand has safeguarded the future of their enterprises.


Why Is Branding Important Anyway?
In 2022, we all intuitively know the importance of a brand experience. We want everything to feel cohesive from the moment we engage with a company—even in the B2B space. Winning brands must demonstrate that they understand their buyer, know what they care about, support the causes they support, and create an absolutely amazing product.
If we accept the value of brand experience, then we must also accept the value of branding. But, if you still aren't sure about why you should stop and spend a few months exploring what makes you unique, there are three specific benefits that I would recommend as food for thought:
A well-defined brand creates alignment, ensuring your entire team is pushing in the right direction. The best brands get their entire team on the same page so everyone knows (and more importantly lives out) the answers to the questions "Who are we?" and "Why are we unique?" in the same way.
A bold brand allows you to redefine your category so that your competition disappears into the background. Airbnb redefined how we think of travel and hotels by creating a whole new 1-to-1 vacation rental category they could dominate.
A unique brand frees you from price competition allowing you to charge more than your competition even if your prices are comparable. Clorox bleach costs significantly more than its competition while maintaining strong market share even though its product is identical to other bleaches on the market.
To learn more about each of these concepts, check out this blog post.


Integrated Branding: A Framework for Success
What you need to achieve these outcomes is a framework. At A Brave New, we practice a version of the integrated branding method. This method was made popular by the 1999 book called Integrated Branding by F. Joseph LePla and Lyn Parker. 1999 may seem ancient, but here's the thing: the principles are still true.
The basics are all about this simple concentric circle diagram.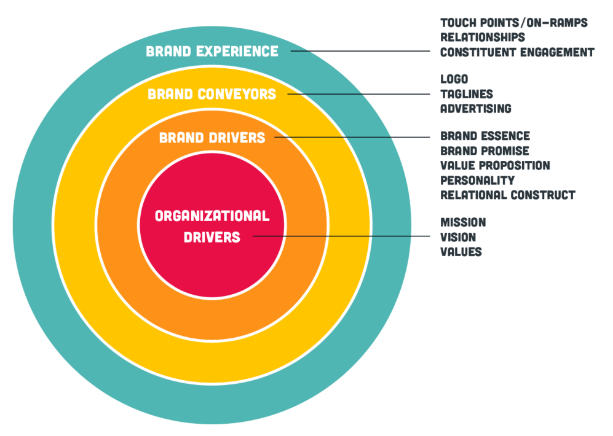 We're not going to focus here on the organization drivers, brand conveyors, or brand expressions. You're probably already familiar with all of those. Instead, let's focus on the brand drivers.
Brand drivers are key. They make your business unique and make you stand out from the crowd. For example, if you own a sandwich shop, brand drivers describe why your sandwich shop is different from every other sandwich shop. They're what will allow you to charge more for your product, just like Clorox does.
Let's walk through each component:
Essence—Your essence is the connecting thread pulling together everything that you do. This is the main "memory" that you want to leave people with every time you interact with them. For Disney it's "magic," for Harley Davidson it's "freedom."
Value Proposition—Your value proposition is the unique value that you provide to your customers.
Promise—What promise can you make and keep to your customers, every time they interact with you?
Personality & Relational Construct—What would your brand be like if it was a person? How does it relate to people?
Want to Discover Your Brand?
A Brave New can help you uncover the brand drivers for your organization.
The results will be transformative for your people, your processes, your product, and your marketing. A clearly defined brand not only allows you to be consistent every day as you go about your work, it will also help you clarify what to say "no" to.
We offer a two-part branding workshop (in two sessions held one month apart) focused on helping you define your brand identity so that you can be better equipped at growing your business.
If you're interested, please get in touch. We'd love to talk about how a brand might accelerate your business.
If not, you can also just take a look at our accelerated branding process and work on implementing it yourself.
This post was originally published on February 8, 2018. It was updated on April 12, 2022 to add more detail and information.
Don't miss out, get Brave News now
Join the ABN community and be the first to learn about trends in inbound marketing, branding, and web design.