Branding is a nebulous word. When most people speak about it, they mean colors and a logo. But you, savvy marketer, most certainly know more that it's more than that.
Your logos and colors are an important conveyor of your brand, but they should be an expression of something much deeper, your brand essence:
Brand Essence - The connecting thread linking together everything that you do. This is the main "memory" that you want to leave people with every time you interact with them.

Read Next: The Secret to an Accelerated Branding Process
Why Is Branding Important Anyways?
There are two simple reasons why branding is important.
The vast majority of Americans make purchase decisions based on brand
Companies with strong brands can charge up to 20% more because of their perceived brand value
These two bullet points can be summed up in one simple product: Clorox bleach. In the United States bleach is a controlled substance. This means that every bottle of bleach you buy, name brand or not, is the same. And yet, Clorox costs more, and more people buy it. Simply because of it's brand.
As a business owner, your goal should be to be able to command higher prices simply because of your brand. Developing a strong brand and consistently communicating it, will help you do just that.
Ok, So What Now?
Ok, so your convinced of the value of a brand. How should you get started?
Here's a secret: don't start with hiring a designer to create a fancy new logo. We recommend you start with something called your brand drivers. These are the core elements of the Integrated Branding model. Let's dive in and talk you through each component.
Introducing Integrated Branding
At A Brave New, we practice a version of the integrated branding method. This method was made popular by the 1999 book called Integrated Branding by F. Joseph LePla and Lyn Parker. 1999 may seem ancient, but here's the thing: the principles are still true.
The basics are all about this simple concentric circle diagram.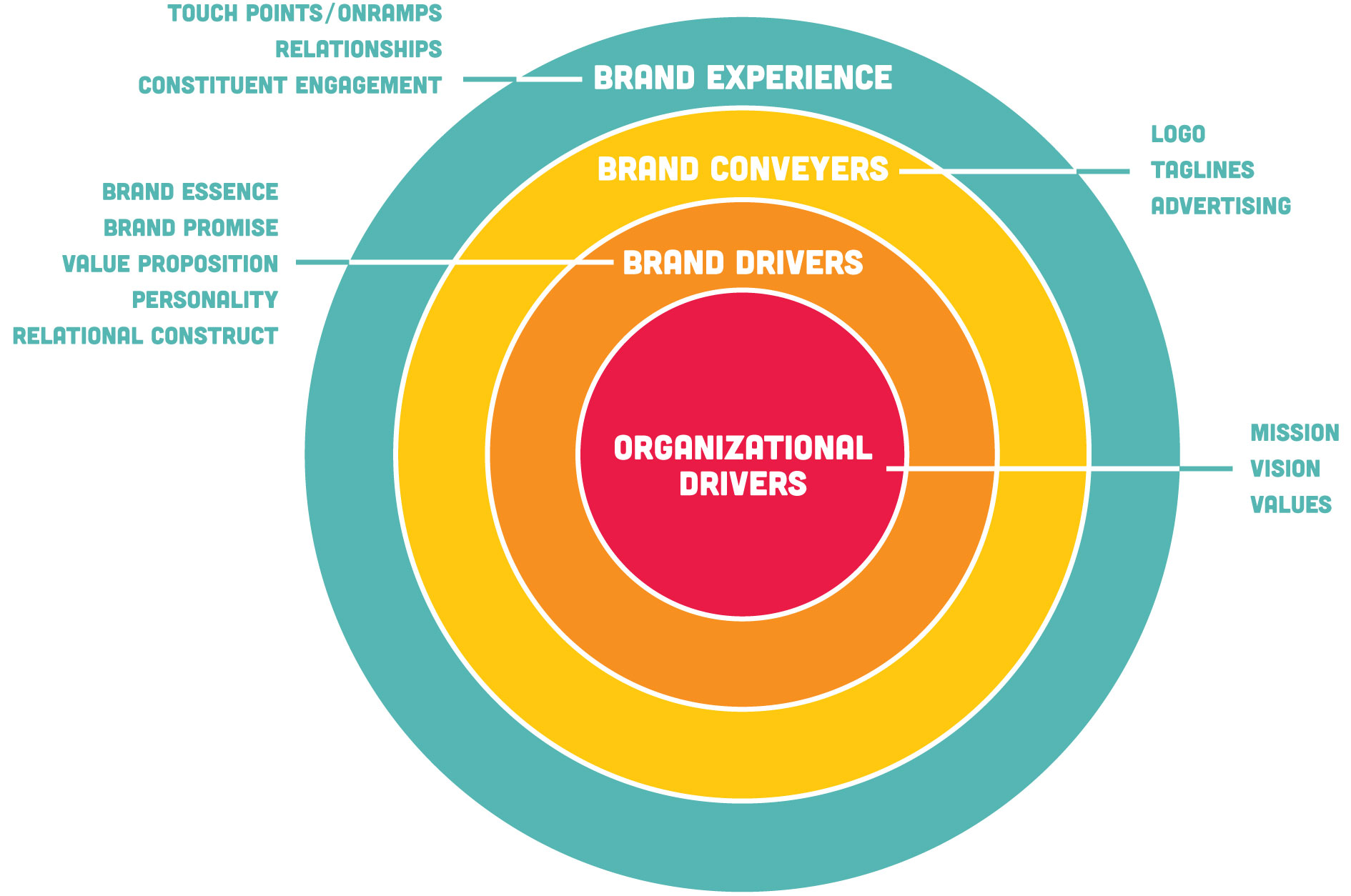 We're not going to focus here on the organization drivers, brand conveyors, or brand expressions. You're probably already familiar with all of those. Let's focus in on the brand drivers.
Brand drivers are key. They are what makes your business unique. They make you stand out from the crowd. For example, if you own a sandwich shop, they describe why your sandwich shop is different than every other sandwich shop. They're what will allow you to charge more for your product, just like Clorox Bleach.
Let's walk through each component:
Essence - Your essence is the connecting thread pulling together everything that you do. This is the main "memory" that you want to leave people with every time you interact with them. For Disney it's "magic," for Harley Davidson it's "freedom."
Value Proposition - Your value proposition is the unique value that you provide to your customers.
Promise - What promise can you make and keep to your customers, every time they interact with you? This is your promise.
Personality & Relational Construct - What would your brand be like if it was a person? How does it relate to people?
Want To Discover Your Brand?
A Brave New can help you uncover the brand drivers for your organization.
The results will be transformative for your people, your processes, your product, and your marketing. A clearly defined brand not only allows you to be consistent every day as you go about your work, it will also help you clarify what to say "no" to.
We offer a two part branding workshop (in two sessions held one month apart) focused on helping you define your brand identity so that you can be better equipped at growing your business.
If you're interested please get in touch. We'd love to talk about how a brand might accelerate your business.