Here's a quick reminder: You need to buy your own name in paid search! If you don't, someone else will. And they'll steal traffic that is intended for you. Below are two quick examples; both from savvy and modern brands. I was shocked when I googled them today to send links to a client, and saw that they weren't buying their own names.
Even if you're already ranking highly - #1 even - in organic search, you still need to buy your name. If someone else is, their ad will be featured above your organic result and siphon off some of your traffic.
Make sure that you have a brand campaign set up in Google AdWords. Add keywords that are every variation of your name, with all match types. For example, if your name has the word "kids" in it - assume that people will also search "children, child, etc" and create name variations for all those possibilities. Your content (presumably) should be more valid than your competitors, so even if they're bidding on your name, you will outrank them. If you don't, you have deeper problems with your site content (or ads) that you'll want to address.
Hubspot's lack of a paid search strategy provides a good example of why branded search is important. Even though they're #1 in organic search, Hatchbuck is showing up ahead of them because they've purchased the term and set up their ad to offer an "Alternative to Hubspot."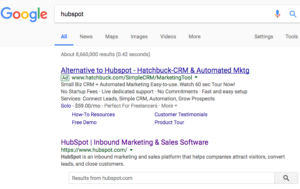 Here's another example from Buffer. In this case, it's also a competitor, Hootsuite.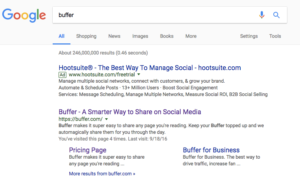 And here's Hootsuite, demonstrating what you should be doing.
If you aren't currently buying your brand name in search, move it to the top of your to-do list. We guarantee you'll see the results.