A few weeks ago, we had the privilege of launching a freshly redesigned website for DonorBase. We love launching new websites for clients. Here's why:
Marketing is a constant activity. There aren't really points where you can step back and say you've completed something. A website redesign is different. There is a moment of launch where everyone involved can stop and celebrate.
A new website can transform an organization. A site is the primary brand experience that many companies offer their constituents. It's also often the first place their clients interact with them.
Both of these were true with DonorBase. We couldn't be happier to partner with their team to build something that truly reflects their company and help them stand out from their competition.
DonorBase Helps Nonprofits Raise More Money
DonorBase is a cooperative donor prospecting database that works exclusively with nonprofits to improve efforts to find new donors who care about their cause.
We love that they're a boutique shop. They're nimble enough to tailor a custom solution for each of their clients. You won't be a number with them. They'll listen to your specific needs and develop something that fits perfectly.
A Legacy Site That Didn't Fit
DonorBase had evolved significantly since their previous site was designed. So had the internet. It wasn't driving leads either.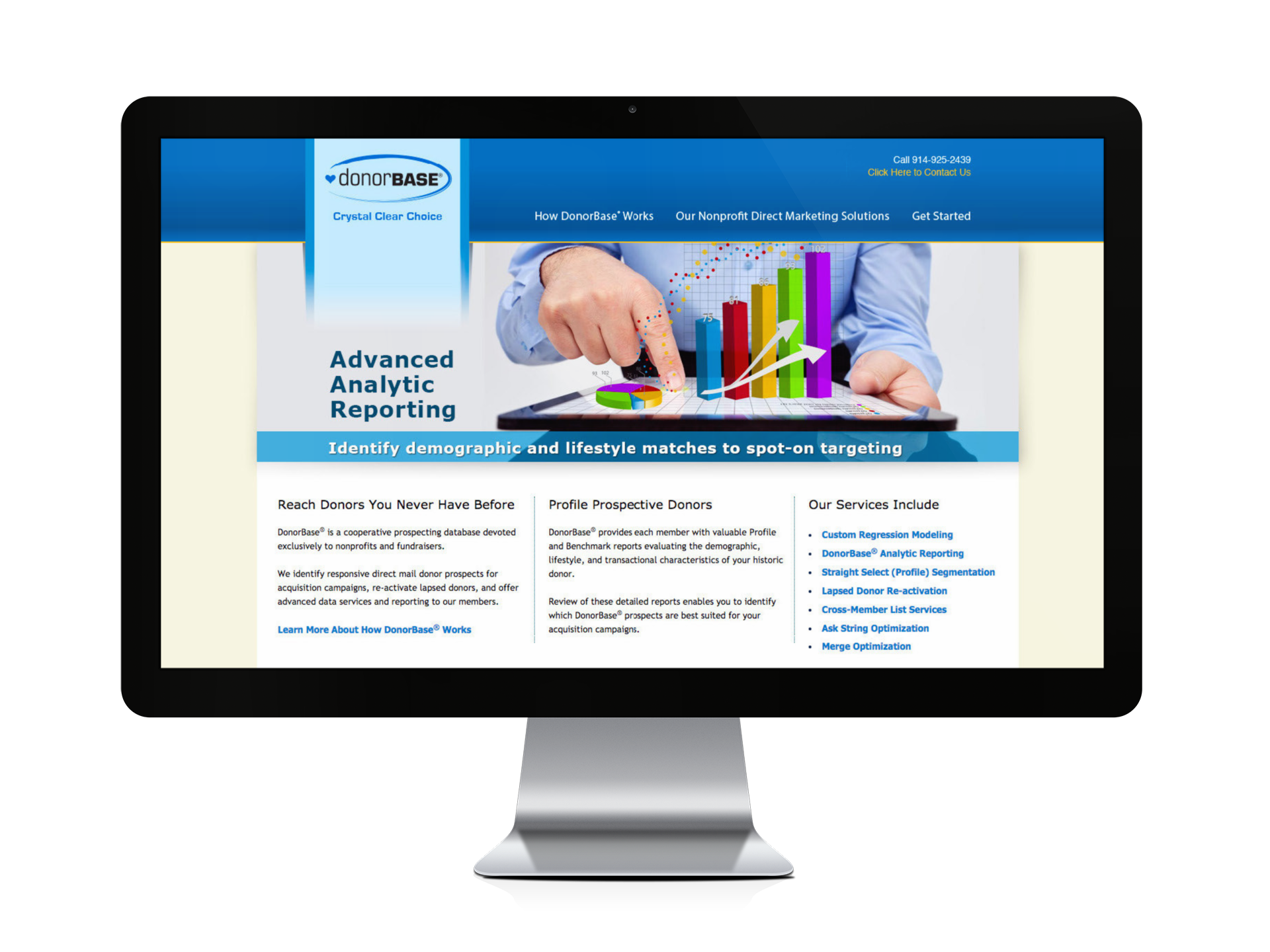 During our initial conversations President, Bruce Demaree, and Vice President of Sales & Marketing, Sherene Kelly, were clear about their objectives:
Design a clean and modern site that stands out from their competition
Reflect their nonprofit focus and their custom approach
Create a site that would drive leads
We couldn't wait to dig in and get started.
A Whole New Website (And Brand) Experience
We start every site redesign with a discovery process that includes an in-depth and unique process that we've developed over dozens of projects to evaluate a client's competition and understand their unique positioning. After completing this process for DonorBase we determined they needed a whole new refreshed look including new colors, a refreshed logo, and a new brand voice.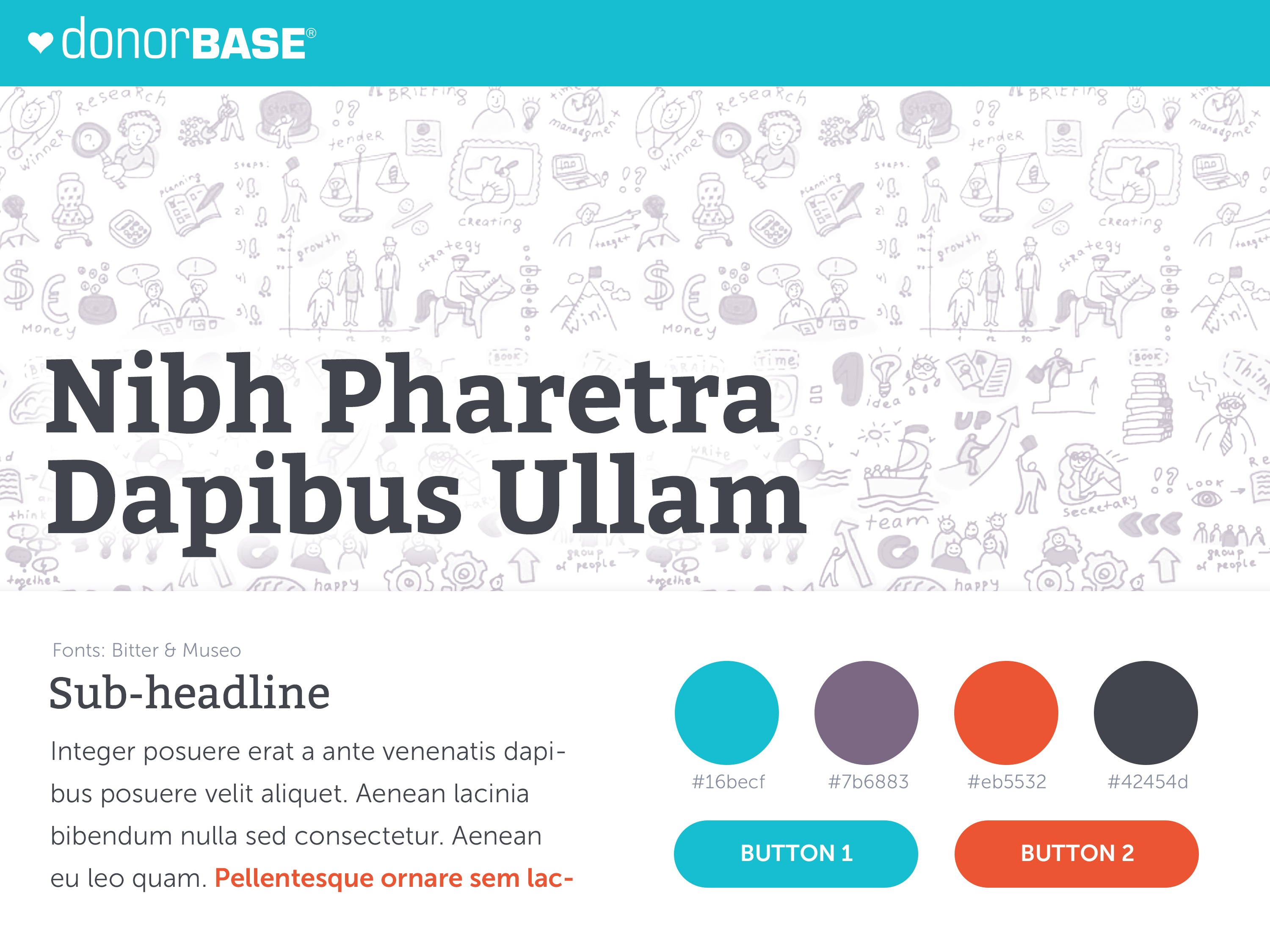 Once we had this new look solidified, we collaborated with the DonorBase team to create a site that uniquely fit their needs using both WordPress and Hubspot as platforms.
Standing Out From The Competition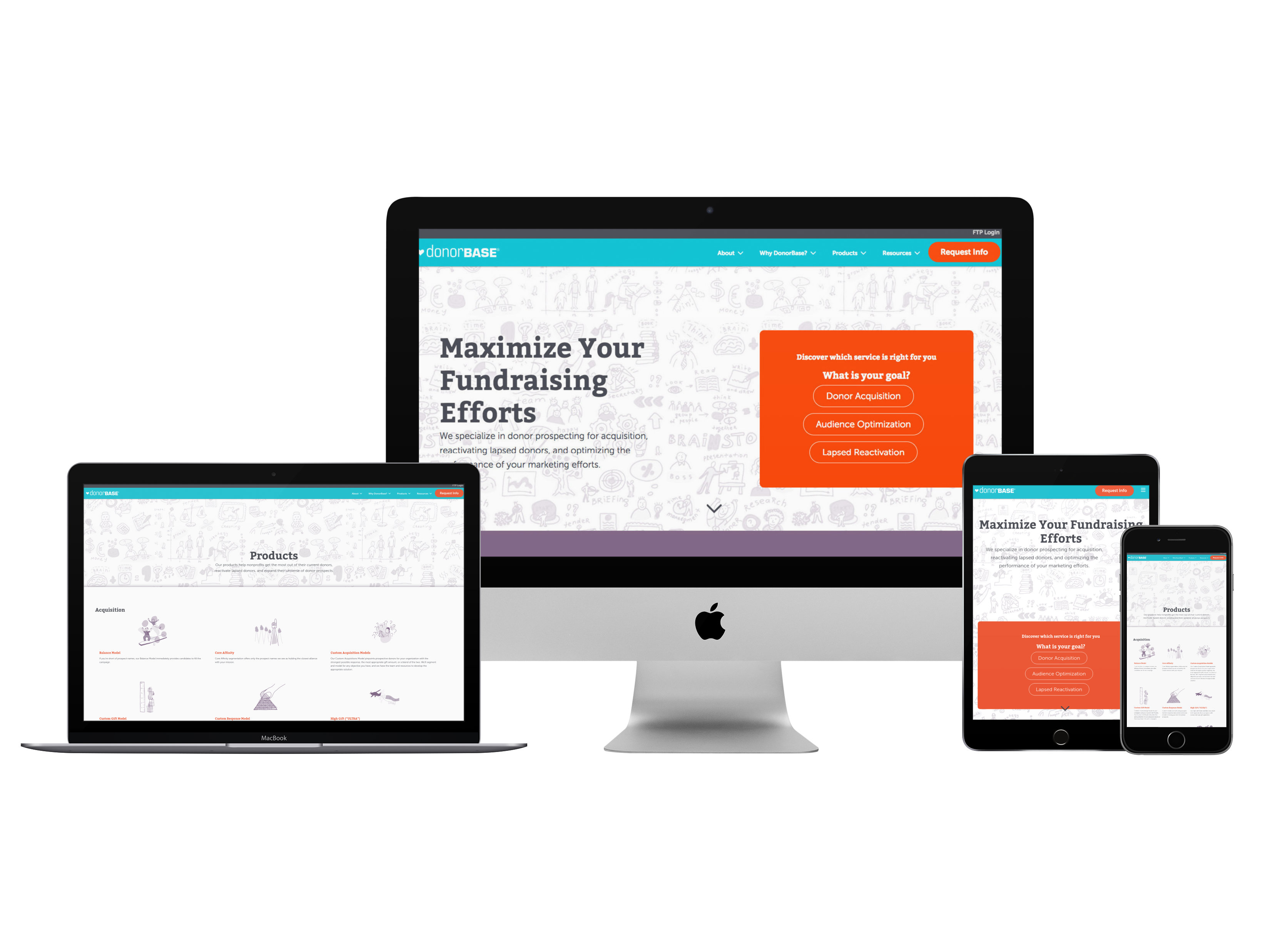 Our initial discovery revealed that DonorBase's competition were all using a similar color palette. They also all have very business-like approach. As a boutique company, Bruce and team felt great about embracing a more informal look and a color palette that will make DonorBase memorable.
Showcasing DonorBase's Nonprofit Focus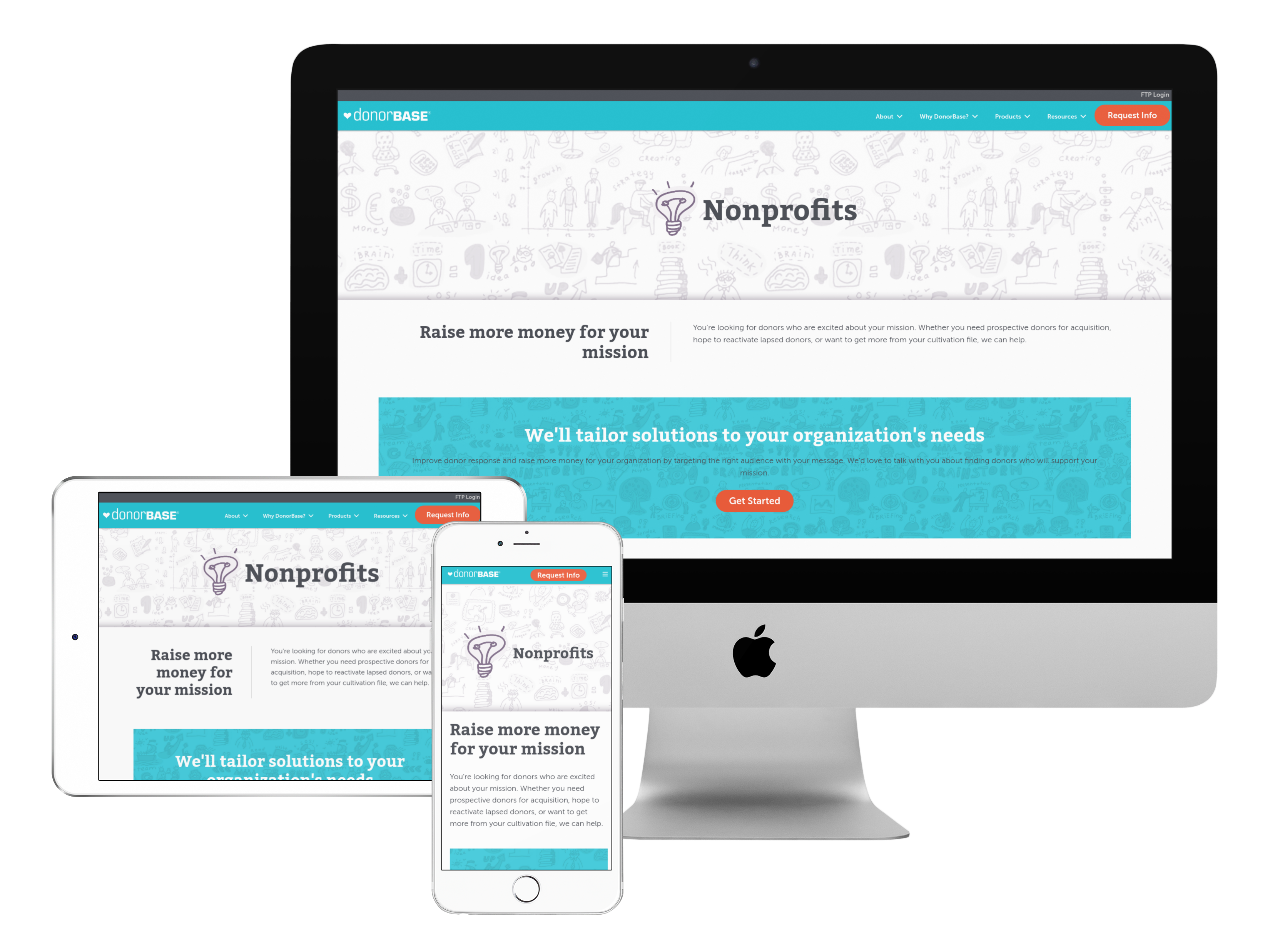 DonorBase focuses exclusively on nonprofits. They have deep expertise in creating models that help nonprofits find the best donors and increase the giving of their current donors. They wanted this fact to be featured front and center on their site.
Easy To Understand Products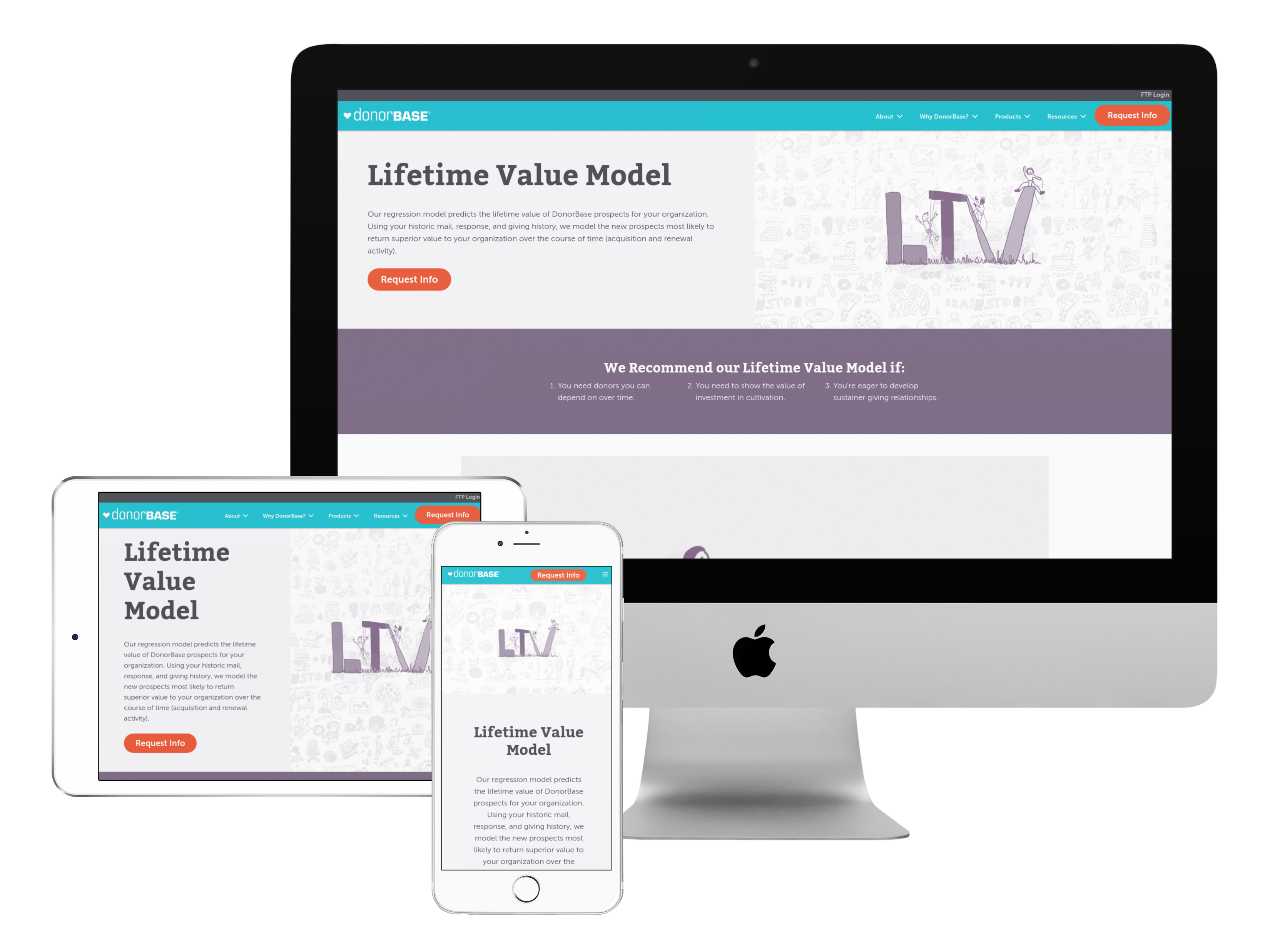 Models can be difficult to understand, even downright confusing. We worked with them to create simple, yet rich product pages that explained how each model worked in easy to understand language. We also created custom illustrations to visualize difficult to understand concepts.
The Results
It's still early days, but the redesign is already producing returns for DonorBase. In the first two weeks after the site launched, it had already produced viable leads for their sales team to pursue.
Sherene Kelly had this to say a few weeks after the site launch:
"We are thrilled to have a new updated site that reflects who we are as a company and showcases our product offerings. We are grateful for your design guidance and straight forward strategy that helped us launch a great site. I'm happy to say that all the feedback we've received has been extremely positive. We've already had website leads that we are pursuing and it's been so easy to track them."
We're also thrilled, and excited to see how DonorBase's business grows as a result of their site.
Don't miss out, get Brave News now
Join the ABN community and be the first to learn about trends in inbound marketing, branding, and web design.