Last week we were thrilled to launch a new website for Seattle Humane. Seattle Humane's breadth, scope, and reach of animal care and leadership in working to make Washington a no-kill state sets it apart from any competitors.
We wanted to highlight these unique distinctives, while rallying both donors and pet adopters to help support the goals of Seattle Humane: to support a growing number of animals in need, and provide leadership to smaller organizations across the region.
LeGacy Site:
Seattle Humane had a Drupal website that had to be updated by a third party vendor and was completely unchangeable internally. This made life challenging for the Seattle Humane team as they host multiple events each week, have a rotating group of pets for adoption, and feature a large amount of content for public consumption. We wanted to give them a beautiful and functional site that was also easy for them to manage internally.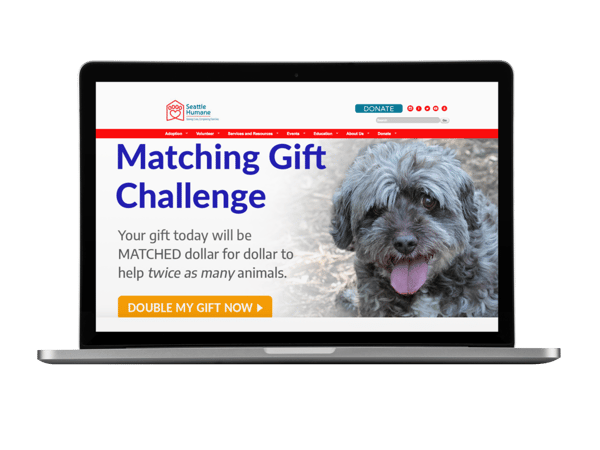 Project Goal:
To create a modern, mobile responsive website that grows Seattle Humane's revenue through donations and pet adoptions by driving and converting leads and promoting ongoing engagement.
The new site had some particular challenges:
Timeliness
People search for pets and information about them in real-time. There is an expectation that new pets will be available on the site instantaneously, and that any information about them will be known by the staff members who are managing their adoption. Secondarily, people expect to learn detailed information about each animal's story in real-time as they become available.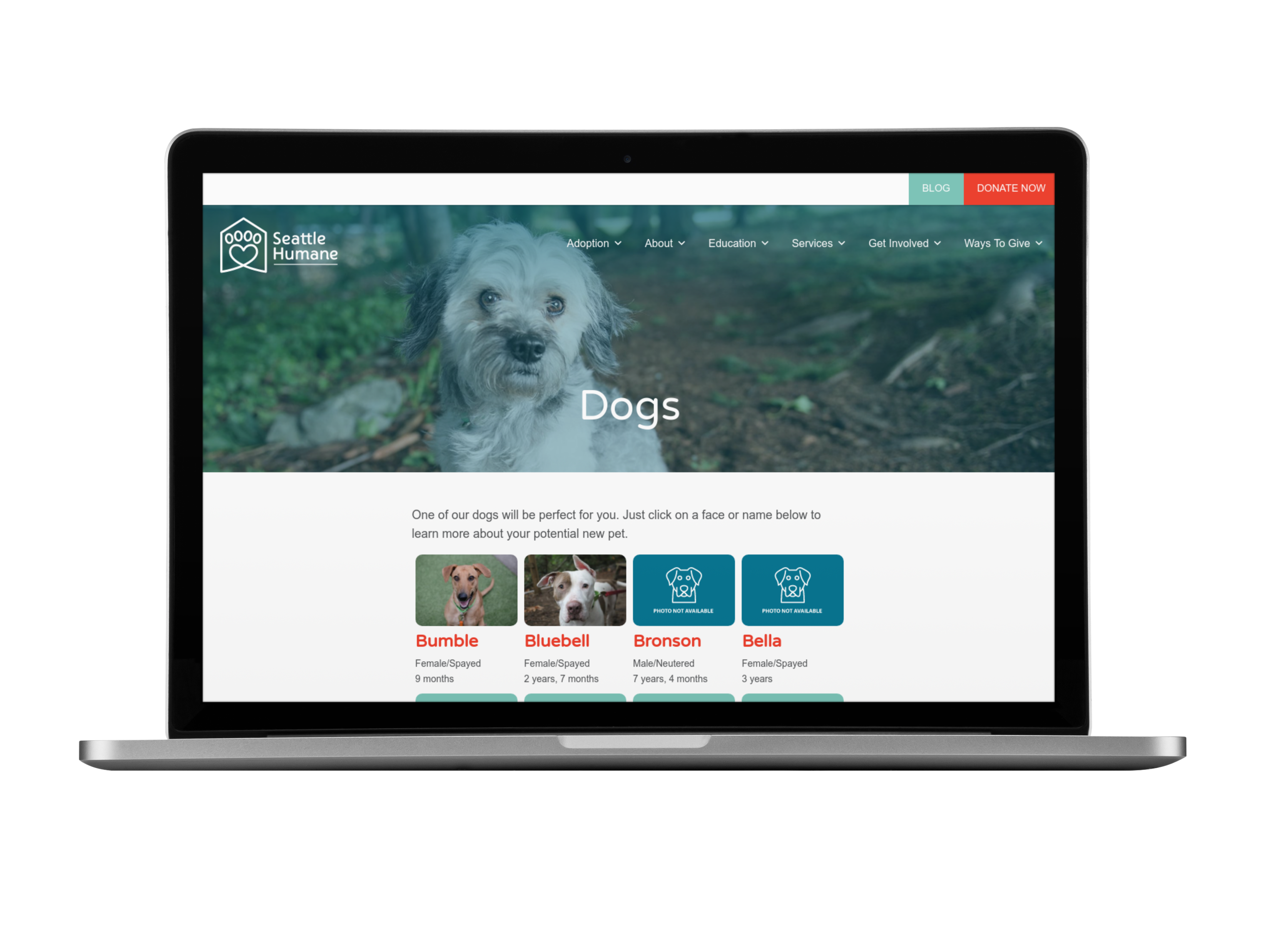 "The main technical challenge of this website was it's scope. It had more pages and content than other websites we had worked on. That scale gave us an exciting opportunity to test creating the content directly in WordPress. That allowed us to more quickly move through development and more accurately gauge progress. I'm proud of the site altogether, but for my part, the work we did to bring the adoptable pets out of an iFrame and into the site stands out. If I have to say something nice about my work, I'm proud we were able to use the default Luminate Donation application to build the donation process. In the past we've had to add complexity by using the API, but this time we didn't need to go that route." - Jacob Smith, Developer
Navigation
Because of the breadth of services that Seattle Humane provides, it is can be hard to offer a list of services in a concise and intuitive way. Users (internal and external) expressed frustration about getting lost in navigation and struggling to find what they're looking for.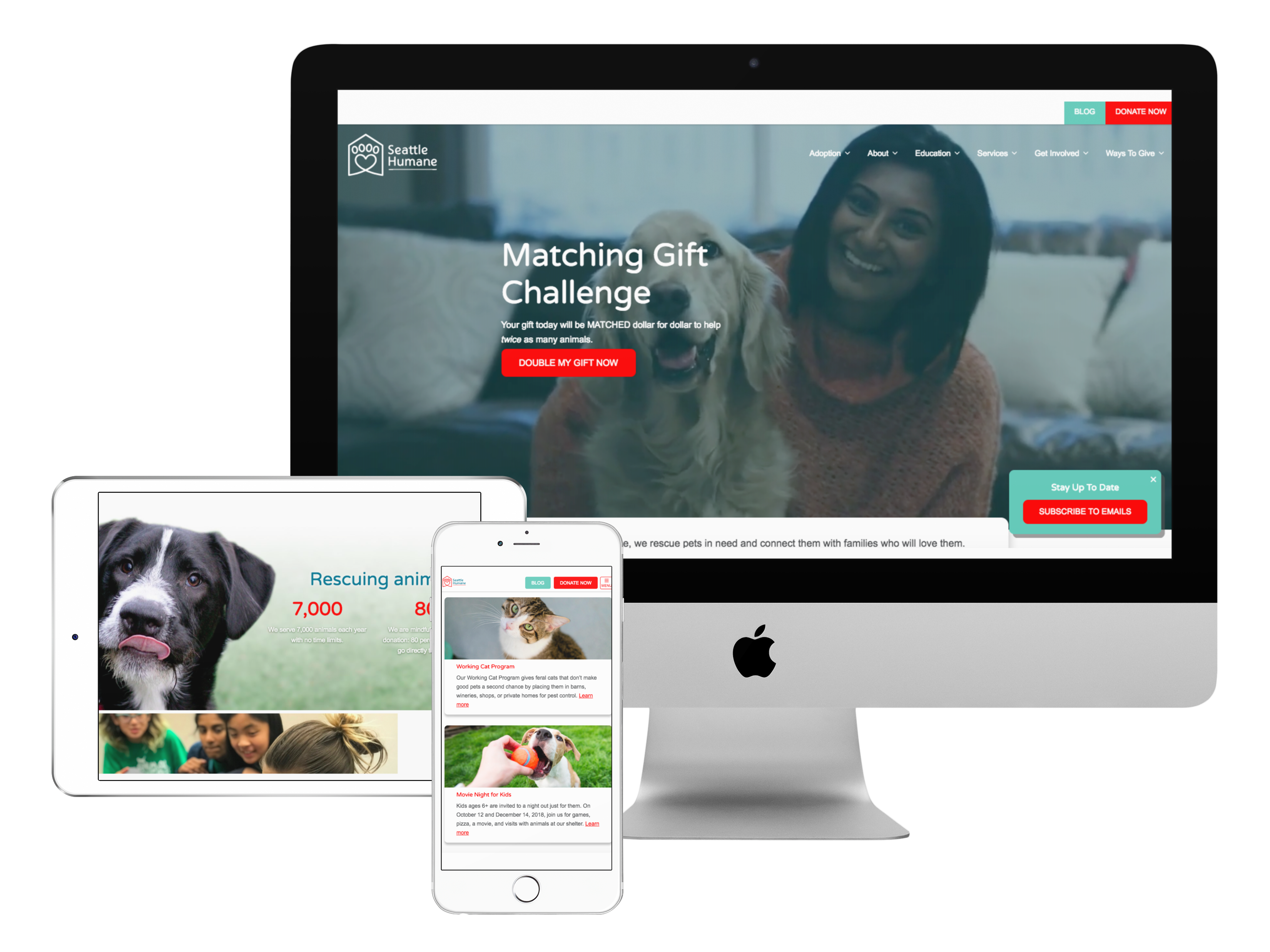 Big Org On The Block
Because Seattle Humane has just completed a major capital campaign and has a beautiful new facility to show for it, the impression may wrongly be given that they don't need additional support. In reality, because of the major commitments that Seattle Humane has undertaken with the new building, including helping a larger number of pets find homes, additional support is needed to help them attain their ambitious goals.
"The biggest design challenge for the Seattle Humane site was in creating an experience that invited users into the Seattle Humane story - both from the perspective of being able to see themselves in the site and through features that drew them in through engagement. We accomplished this on the homepage through the strategic use of video and by highlighting pet profiles that are dynamically populated from a master database. I'm proud of our team for taking a huge amount of inut from the SHS team and distilling it into a beautiful site that meets user goals while satisfying the business needs of the organization." - Ryan James, Designer
Content
Seattle Humane has many diverse audiences that it is serving with vital information - from caring for your new pet to figuring out how to re-home a pet in adverse circumstances. They needed both valuable content now, and a content system to provide resources on an ongoing basis.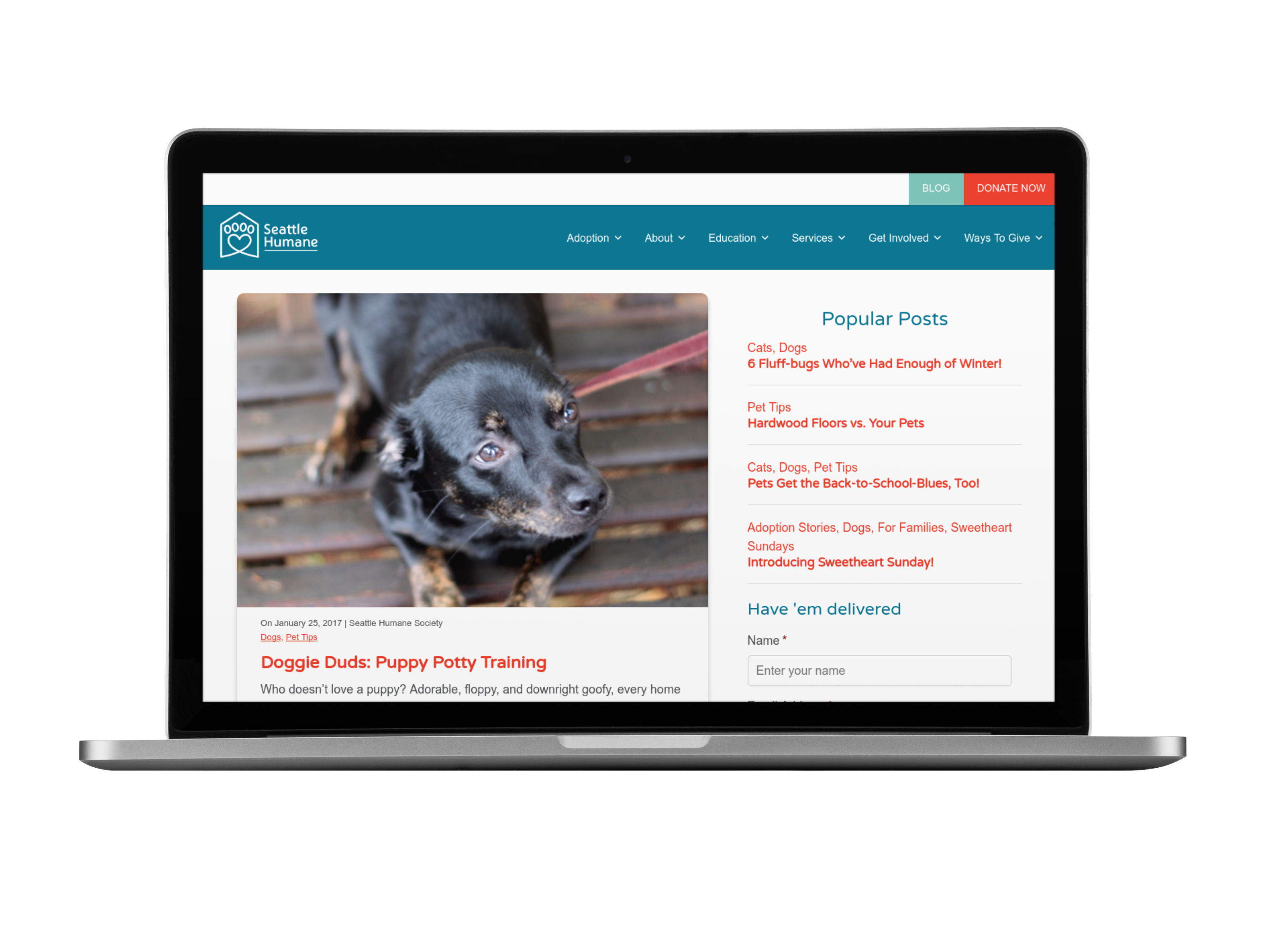 "Reorganizing content into a new structure on a site full of this much information - with paths and pages that have evolved over time - is a real challenge. Everyone in the Seattle Humane audience comes to the site in search of something different: a new pet, a place to volunteer, a way to donate, help with dog behavior, help in crisis, community services, and so on. Our goal with content was to make each of these site visitors feel welcome and excited about Seattle Humane while guiding them as smoothly as possible to their desired destination. I'm proud of the nimbleness of our team and our ability to adjust page layouts as we adapted and revised content. I think we've produced and inviting site for an exceptional organization that does good work and I'm excited to see what comes of it."

- Deb Beddoe, Writer
Significant Leverage of Third-Party Applications
Many of the core pieces of functionality on the site are accomplished on third-party applications or sites. It will be a challenge to create a cohesive experience as the user is transitioned to these different systems. This reality also makes it difficult for us to track the effectiveness of certain actions.
"Seattle Humane needed a modern website with improved functionality that also reflected the brand and vision of the organization. A Brave New streamlined the process by meeting with stakeholders, building out an efficient production schedule, and ultimately delivering the new site on time and as expected. The additional follow-up support and training provided with the project has been helpful to enable staff to confidently operate the new site independently. We're very pleased with the new website and the improved functionality it offers to better communicate our mission!" - Jenna Pringle, Marketing Director - Seattle Humane
Don't miss out, get Brave News now
Join the ABN community and be the first to learn about trends in inbound marketing, branding, and web design.