It's Inbound time again.
Each September, we make our annual pilgrimage to Boston for Hubspot's annual conference. We eat, we drink, we attend sessions until our brains are ready to explode; all with the goal of improving the work we do for our clients.
If you couldn't come, here are some of the things we're thinking about as the week comes to a close.
1) Focus On Customer Marketing As Much As Lead Generation
Hubspot talks a lot about how the sales funnel needs to be replaced by the flywheel. In the flywheel, equal importance is placed on attracting and engaging with new prospects as delighting existing customers.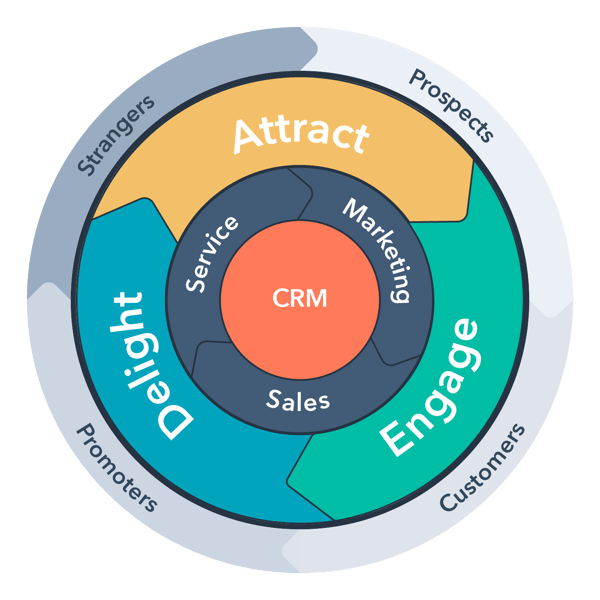 We couldn't agree more. One of the big topics of conversation this year has been about how to do that with the same systematic methodology that we bring to inbound marketing. Here are ideas to get you thinking:
Use Customer Satisfaction and Net Promoter surveys as much as possible. Research shows that if your Customer Satisfaction is in the 90%, 92% of your customers will recommend you. That's powerful.
Engage your customers with Webinars. In fact, customers have a 102% higher propensity to increase their investment in your products and services after attending a webinar.
Build in mechanisms for getting customer input. This may mean putting up different chatbots throughout your site to gather feedback, it may mean in person interviews, but it definitely means listening.
Get your information out of your head and share it with your customers. This can take many forms, maybe a public knowledge base, maybe a video series made specifically for when someone starts working with you, it could even be some sort of community.
2) 10X What You're Doing With Integrations
Hubspot has made a massive investment in building out their integrations over the last year. You may be familiar with one or two of them, like the popular Salesforce integration, but there's much more you can do to make your work smarter, more efficient, and more effective. Here are some of the integrations we're thinking about:
These are just a few of the powerful integrations available. Utilizing them and others seriously extends the power of your Hubspot software, and frees you to connect in more authentic ways with your customers. You can learn more about it here.
3) Marketing Isn't About AI, It's About Human Connection
There's been a lot of talk about how to bring the power of AI into the day-to-day work that we do as marketers. Whether it's investing in an AI platform to help you do better data analysis, optimize your landing pages, or even create some types of content, there are tons of practical applications of AI right now.
But, despite all the AI-focused sessions, one thing remains clear. AI isn't the key to ingredient to great marketing, understanding the ingredients of human connection is. If you don't understand who your customer is, what they want, and how you can authentically communicate about who you are and the value you provide, AI won't save you.
It turns out our customers are real people. They want authentic connection, even in the B2B world. It's up to you to give it to them.
4) Brand Continues to Be King
The evolution of marketing continues to accelerate. New technology and tactics come up every day. They're impossible to keep up with. At the center of everything is your brand. Today, in her session, Dara Johnson Treseder talked about the importance of being a venture futurist when you think about your brand.
Let me break it down.
A futurist is relentlessly curious, thinking about what's next. We need to always be asking that as we think about how our brands will evolve and stand out from the competition.
A venture capitalist is all about possibility, partnership, and pivot. They pursue numerous possibilities because they know if they have a portfolio of ideas about how to grow, some of them will succeed. We need to be taking this approach as we think through how our brands will evolve. Venture capitalists seek out partnerships that will help them move faster than they ever could on their own. Brands need to understand which partners will either enhance their transformation or reinforce their identity. They pivot when needed. When you discover something inside your organization that isn't on brand, you need to pivot away from it, and fast.
Venture futurists. Kind of a catchphrase, but the thinking is definitely solid.
5) Check out Chickadee & Bondir
And last but not least. If you're in Boston anytime soon, we had the a great time eating at Chickadee and Bondir. Great food and definitely worth a few hours of your time.
Tomorrow we head home. If you were at Inbound too, we'd love to hear your takeaways. If you couldn't attend, we'd still love to talk. Add a comment below to join the conversation.
Don't miss out, get Brave News now
Join the ABN community and be the first to learn about trends in inbound marketing, branding, and web design.