This spring the geniuses at Brain Traffic released a new content strategy quad. We've referenced this update, but think that it's significant enough to acknowledge here and unpack why we think it's a valuable iteration to the way we approach content strategy.
The foundational components of content strategy encompass work that you should do before you start creating stuff. This is to be sure you're creating it for the right people, the right purpose, and that it aligns with your brand and organizational goals.
Previously, we looked at the work like the diagram below. We talked about content components and people components and broke them into substance (how and what we will communicate) and structure (what channels to use and how to measure success) on the content side. And workflow (what processes will we use) and governance (who will be responsible for what) on the people side.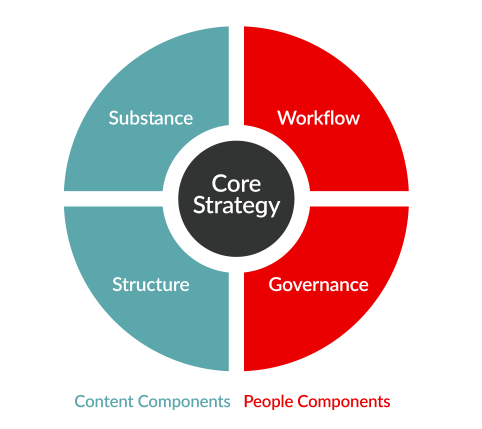 The new quad looks like this and it's better because it's SQUARE. Oh, and also because it helps manage the complexities of how content is really created and distributed much more effectively.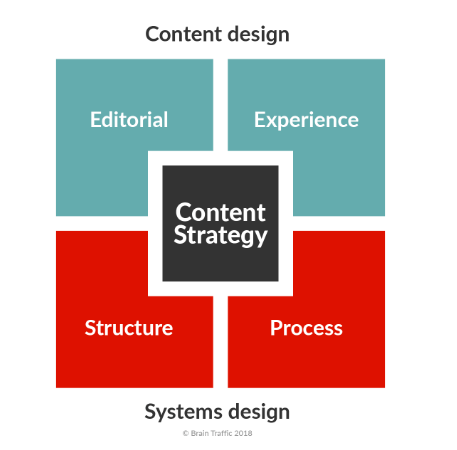 At the core, you still have content strategy, and then from there you approach the work from two vantage points:
Content Design
Content design is the "process of using data and evidence to give the audience the content they need, at the time they need it, and in a way they expect" (coined by Sarah Richards of Content Design London). This aligns much better with the need to use research to explore who your audience is and what they're looking for. Then you can align what you're creating to meet those needs, measure if it's working, and adjust. The marriage of content design happens within editorial and experience:
Editorial
Editorial asks us to think about how our approach (brand and offer) fit our audience. What is our brand, tone of voice, offer, and point of view? What do we want to accomplish with our content?
Experience
We then blend our editorial approach with the user experience. What does our customer want, how do they consume content, and what steps will they take along their journey?
SYSTEMS DESIGN
Systems design helps us set up a repeatable process from which we can create, measure, and modify our work in a consistent and scalable way. In order to do that you need structure and process:
Structure
Considering the content structure helps us to do the work of tagging, using the proper naming conventions, following a checklist for publishing and optimizing content, and systemize the re-use of content as appropriate. This work seems boring, until you've created multiple cornerstone pieces of content and hundreds of blog posts. Then you find out how crucial this step is.
Process
Process not only encapsulates the workflow (who creates, who reviews, who approves), but defines key steps in the content lifecycle, details how it's distributed, what tools are used to managed it and more. Together process and structure help ensure that you've created a content program that can be repeated without unnecessary manual work or fear of missing crucial steps.
If you haven't done the work to develop your content strategy and are just doing stuff and hoping it sticks, talk to us. Making sure you have the right foundation in place to build a content program from are key to making sure that you're building something that your users want, and that will gain value over time.
Don't miss out, get Brave News now
Join the ABN community and be the first to learn about trends in inbound marketing, branding, and web design.