Recently, I had the pleasure of chatting with Deepika Kumar, CMO of healthcare tech startup CareJourney, for an episode of A Brave New Podcast. Deepika has significant experience in both sales and marketing, including leadership positions at companies like Bloomberg Law, CED, and Clara View.
She is also a founding member of Chief DC, the only private membership network focused on connecting and supporting female executive leaders in the Washington, D.C. area.
Given her extensive experience, I was eager to pick Deepika's brain about her current role at CareJourney, beginning with how she goes about assembling a rockstar marketing team at a startup.
"It's very important to prioritize," she told me, "because sometimes you can get paralyzed when building out a marketing team, especially as a small business. You're working with a very small amount of resources and budgets, but you have these big goals that you also need to accomplish."
As for how Deepika prioritizes from the ground up, she told me the first area of focus needs to be customer problems. "What helps me is joining sales and customer sales calls," she said, "just so I can hear customer problems directly, I can understand what the conversation is like, what message is resonating, and what isn't."
Another important area of focus is building cross-functional teams as a leader. "When anyone is coming into a new role, you are naturally bringing a lot of personal equity with you," she said. "You want to be able to use that personal equity right in the beginning, but use it wisely. When people understand you're taking a customer lens to everything you do, it becomes much easier to get people on board."
The next priority, according to Deepika, is a focus on data. "If you build a robust enough marketing tracking and measuring mechanism, you can then share that data with leadership and even with the broader company as a whole. You want everyone to understand what you're doing and why you're doing it, because that brings people along very quickly and easily."
She continued: "They begin to trust your instincts and want to be a part of that success. If you can say, Well, we did this because we took the time to understand the customer and build this messaging — and have the data to back it up — the rest of the team is really supportive."
One of the most important areas of focus, however, one that has little to do with actual marketing, is being a trusted leader. "Just being a genuine person, being humble and nice to people, goes a long way in creating an effective marketing team," Deepika said. "All of us are dealing with so many pressures at home and work, that just being understanding is really important."
When I asked Deepika about the differences between leading a marketing team at a startup compared to a large company, she told me that being smaller has its challenges.
"My previous role before CareJourney was with Bloomberg, where I had a large in-house team of inbuilt specialties. Different teams for content marketing, product marketing, PR, social media. With a small company, at least in my experience, achieving this takes a lot of time and money. It's not very cost effective. So early on, I think it's better to hire just one or two core people you need and then work with a lot of agencies. Then, as the business scales, your marketing team can also scale and, if you want, you can bring everything back in house."
As we neared the end of our conversation, I asked Deepika what she felt was her marketing superpower.
"If you ask my preteen son, he would probably say my superpower is to nag and annoy him all day," she joked. "But if there were a marketing superpower, I think it would really be about scaling a business in a short amount of time. Shortening the cycle of trial and error in building out a marketing program and being able to pivot quickly to something that works fast."
My thanks to Deepika Kumar for taking the time from her busy schedule to talk with me. This article is just a portion of our wide-ranging discussion, so if you want to hear more from Deepika—and you should—you can download the episode of A Brave New Podcast everywhere you get your podcasts.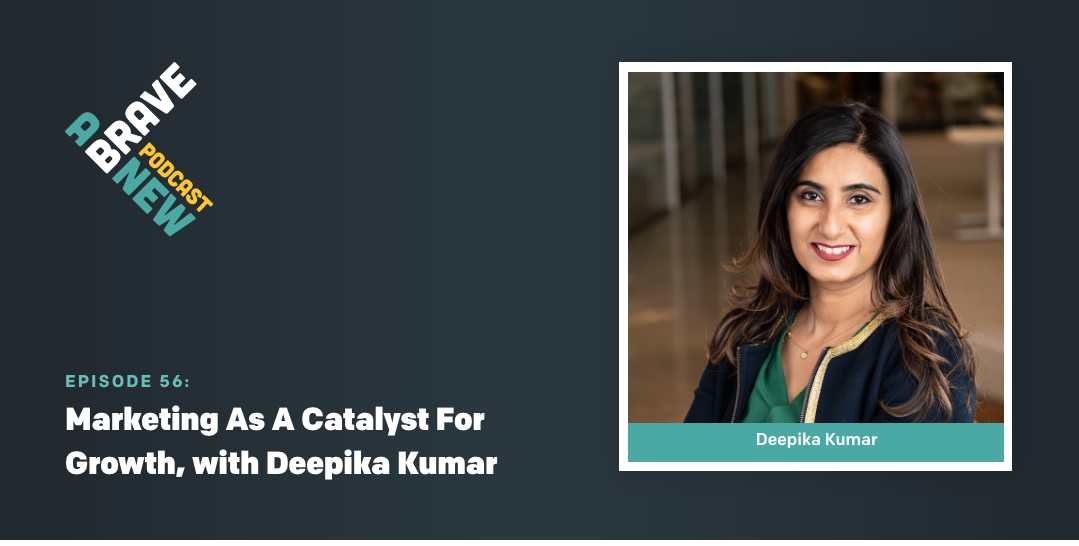 Don't miss out, get Brave News now
Join the ABN community and be the first to learn about trends in inbound marketing, branding, and web design.