Ask any content marketer the key to success in content marketing, and 9 times out of 10 they will probably tell you it's having an editorial calendar. However, anyone who has tried to put one together for their company knows that this can often be much easier said than done.
We've tried it all. Excel spreadsheets. Google Sheets. Word Docs. Post-it Notes. Our brains. We even tried developing our own calendar system because we just couldn't find one that worked ...
Until we found Airtable.
We started using Airtable as an agency about three years ago thanks to the recommendation of one of our Digital Marketing Strategists at the time, Ashley Hoffman. As you read through this post, you'll see a number of demo videos that she created that explain how to set up your own editorial calendar.
There's a very simple reason why our agency adopted her solution. It gave us the ability to easily manage the complex relationships between individual pieces of content, content types, categories, authors, campaigns, and much more. And the best part is, you don't have to be super technical to set Airtable up … especially after you read this post.

P.S. You know that producing great content isn't just for fun—it's to generate leads for your business. If you want to learn more about how to generate the right leads, check out this free guide here. (You don't even have to fill out a form to download it!)


Template Walk-Through

Step 1: Tracking Inspiration
Whether you're a writer, a marketer, or an entrepreneur, you've probably heard some variation of the following quote:
"There is no such thing as a new idea. It is impossible. We simply take a lot of old ideas and put them into a sort of mental kaleidoscope." — Mark Twain
Staying creative is difficult. So much so that when you Google "how to stay creative," there are more than 826 million results.
There are many ways to stay creative (apparently 826 million of them), but one of our favorite methods is to find inspiration everywhere you look.
Yet, inspiration alone only gets you so far. If you're not capturing it for later on, then it's pretty much useless.
While it may not be the first thing we see when we open the database, the Inspiration tab is easy to access the moment we start the editorial planning process. We use this tab as a sort of digital swipe file for our clients, keeping anything and everything that inspires us.




Here, we keep it simple. Name of article/resource/content/thing, URL, and how closely it relates to our own audience and content. In many cases, we also add a description field so we can take notes on what exactly inspired us or what it could be used for.


Step 2: Schedule the Editorial
Once we've gotten through the messy content brainstorm alive, the last step is to bring everything over to the Editorial tab.
Doing this with spreadsheets now seems like a headache. There was a lot of copying and pasting, reformatting, and making sure all the rows were just the right size to see things later on.
And what if a date changed or the client no longer liked the content idea they approved three months ago? Well, back to copying and pasting and reformatting all over again.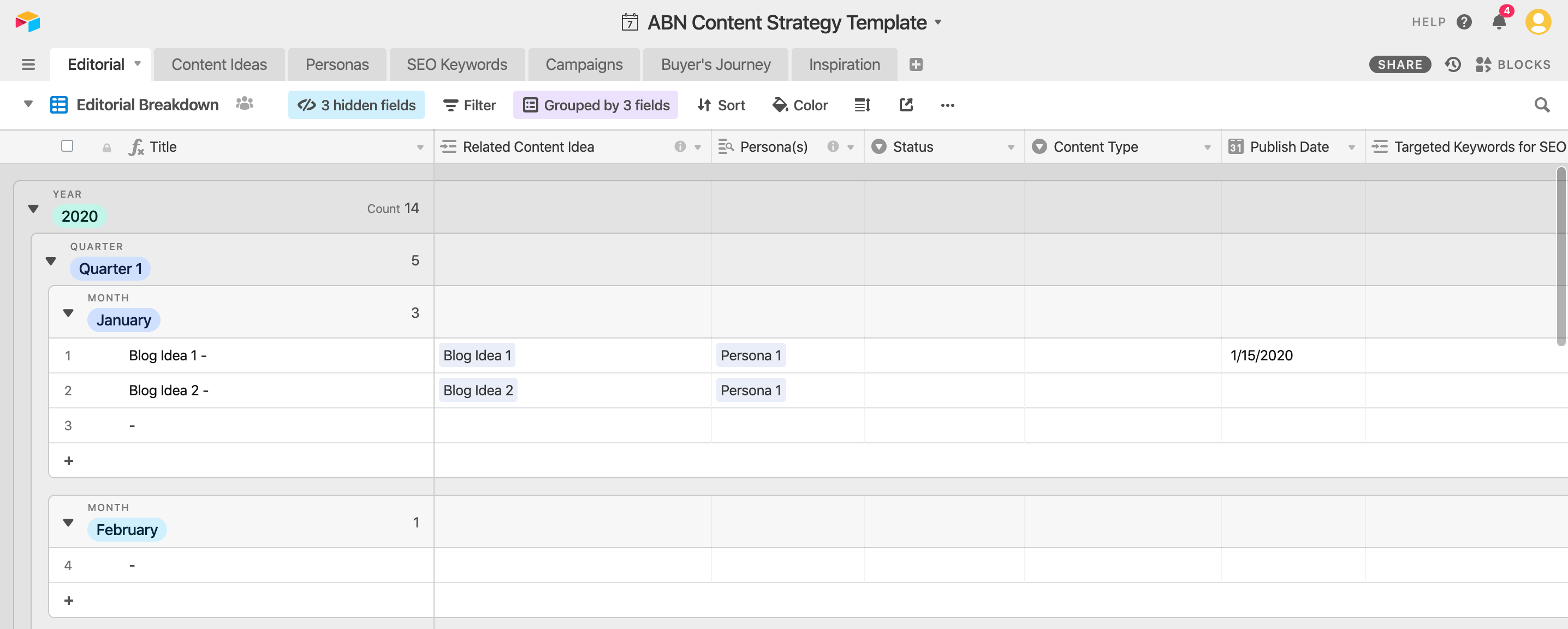 With Airtable's linking and drag-and-drop system, we've found it extremely easy to keep everything exactly where it should be. It keeps together the right campaigns, the right publish dates, the right personas, etc.
When we bring our content ideas over to the editorial side, the rest of it automatically populates, and we've just saved ourselves potentially hours of work. Later on, if and when something does change, it takes just a couple of minutes to get everything updated, and we're all good to go.


See The Planning Process in Action

Everything Under One Roof
Whether you use Airtable or any other method of tracking your editorial calendar, one piece of advice we have is to keep all related information and materials together. Outside of the three steps we just outlined, we also have tabs to keep track of personas, campaigns, keywords, lifecycle stages, and more.
This way, when we're planning a campaign, we can keep all related resources for that campaign linked in one place. Not only does this make it easy to access later on, but it also makes sure everyone has everything they need to reference at any time.
We use Airtable with all of our Inbound Retainer clients here at A Brave New because it works. Each one of our clients that we create content for has a database that is updated regularly and keeps the whole team—including our clients—on board with the editorial plan we've put in place.
Try the template for yourself, click here to access it for free. Airtable is completely free to use (with limitations, of course) and can get you well on your way to organizing your content.
If you're ready to take your content marketing to the next level, let's talk. A Brave New specializes in inbound marketing for B2B technology and healthcare firms who are looking to build a memorable brand and increase their client acquisition pipeline.
This post was originally written by Ashley Hoffman on January 23, 2020. It was updated by Josh Dougherty on May 17, 2022.
Don't miss out, get Brave News now
Join the ABN community and be the first to learn about trends in inbound marketing, branding, and web design.