Last week at INBOUND, HubSpot took the stage and used the conference as an opportunity to release their new product updates — many of which did not disappoint. They included things like Facebook Messenger integrations, a new app marketplace, and even machine-powered automation through their Artificial Intelligence (AI) technology.
Between the mix of updates and the collection of information-packed sessions that we powered through, full of crappy hotel coffee, there was a lot to take in. Yet, as we returned back to the hotel for a drink and a debrief, we identified a few major trends and takeaways from the conference.
Say Goodbye To Personas
For as long as A Brave New has been around, we've been crafting personas with our clients. The problem with these, however, is that every single person is unique.
Grouping people into like-minded personas is a step forward, yes, but as we focus more and more on high-powered personalization, this may become a thing of the past.
Instead, as technology improves and data becomes more available, we can focus more on having highly targeted conversations with specific individuals, rather than generic conversations with a group of them. With the world becoming more and more digital, everyone is bound to leave behind a trail of breadcrumbs. That trail leaves valuable data that smart businesses can use to truly personalize brand experiences and take the customer relationship to the next level.
Pro Tip: As this methodology comes into play, privacy is going to become a bigger concern than ever, meaning brands need to make sure they're complying with GDPR and other regulations that are sure to come out over the next couple of years.
GEnerating Loyalty Through COntent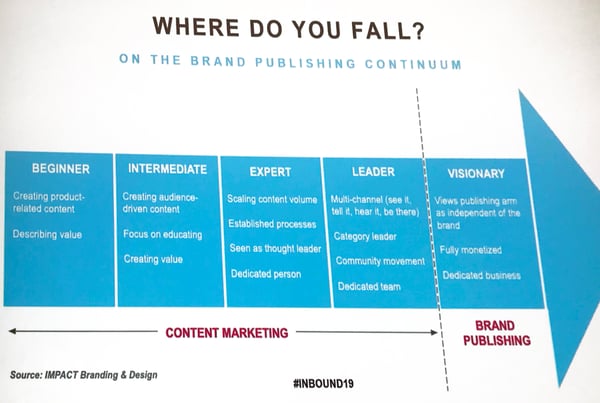 As soon as our prospects turn into customers, we immediately turn our attention to the next new and shiny new lead that comes around the corner. But what if, instead of thinking of content only as a lead generation machine, we consider it as a publishing platform geared toward generating a loyal following?
Brands like Glossier, Moz, and Adobe (CMO.com) have embarked on a journey to create content that not only generates leads for business, but creates a cult following of people who are so dedicated to the brand that they are willing to go to bat for it within their communities.
Today, content marketing is now the baseline. It's just what digital marketers do now. So when everyone is doing it, how does a brand have any hope to stand out in all the noise?
The key is to think of your brand as a publisher, rather than a business. Publishers don't have blogs, they have articles. These articles aren't biased sales messages, they're highly crafted, transparent pieces of journalism that provide some sort of value in terms of education, entertainment, inspiration, or all of the above.
When done correctly, your brand isn't just top-of-mind for prospects who are looking for your products/services. It's right there before they even know they have a problem to solve. And once they do, they'll trust your business can provide what they need and become so loyal that they'll spread the word to everyone they know — without you even having to ask.
Combining Strategy With Technology
With 2020 nearly here, isn't it about time everyone had their own C-3PO? Well, perhaps now we do.
It's no secret by now that Artificial Intelligence (AI) is taking the world by storm. Industries ranging from healthcare and finance to marketing and businesses are beginning to leverage it to improve our processes, cut out the menial tasks, and get higher return-on-investment (ROI).
One of the questions we have had on our minds for a while is: yeah, this technology is cool and all, but how do we actually use it to make an impact?
Coming back from this conference, our question has been mostly answered. Here are a few applications we are excited to dive deeper into for our clients:
Sales and marketing enablement — Marketing can use intent data to attract and select higher quality leads for the sales team
Content optimization — Tools like MaxG (see tools list below) use AI to analyze content such as landing pages and provide detailed recommendations for improving results
Detailed data analysis — Artificial Intelligence runs on data, so a practical application would be using it on data such as Google Analytics to understand, define, and outline ways to identify what's working — and what's not
Predictive analysis — Schedule social posts, emails, articles, and more at the right time — exactly when people are looking for them
Content strategy — We can conduct market analysis, see what people are talking about, and personalize the content experience at a faster, more efficient, and accurate rate than ever before
We're going to be looking into these applications moving forward into 2020 and beyond, and have already gotten started with a couple to test out with our clients.
Feeling behind and not sure where to start with AI? Here's the primary takeaway: start with the data you already have. You'd be surprised at how much data you're currently sitting on — and how much potential it holds for you and your business.
And Finally, The Tools
These are the software recommendations we've come away with and will be looking into to improve the way we work with our clients:
---
As you get through the end of this, it may sound like there's a lot of work to do. We had that feeling, too. But that's a good thing.
With 2020 just a few months away, the marketing industry is on the verge of disruption just as much as any other industry. Consumers are getting tired of being bombarded with advertising they don't care about. They're getting tired of being sold to.
We all just want a positive experience and to make good buying decisions. And that's what the power of personalization provides.
Did you go to INBOUND? Or have thoughts about any of the takeaways from above? Tell us your thoughts!
Don't miss out, get Brave News now
Join the ABN community and be the first to learn about trends in inbound marketing, branding, and web design.